Easy to Install and Waterproof
Reflective stickers have been cut into individual 20pcs and made into curved parts, which fits perfectly with round rims. You can easily stick it directly on the rim of a car, motorcycle or bicycle.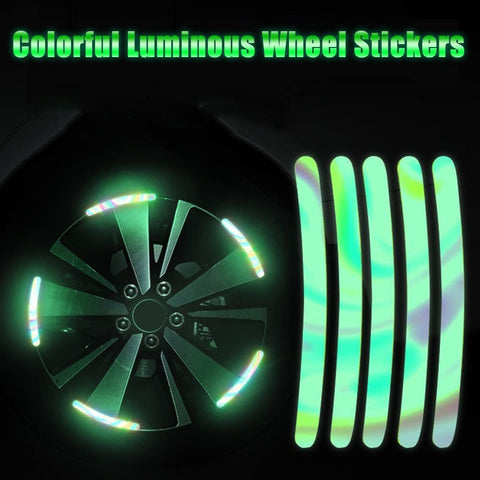 Universal Type
Apply it to your vehicle (motorcycle, bicycle, car, etc) for a custom look and to help you feel safer when sharing the road with larger vehicles. A set of stickers has 20pcs, 5pcs is enough for a rim. The width of the sticker is 7mm, with sufficient visibility.
Safety Driving
This high-brightness rear reflective sticker can give you a safe viewing distance of 300 meters, reminding vehicles behind to reduce blind spots when driving long distances at night, so that drivers can better find you, avoid safety accidents, and make driving at night safer.
Improve Car Safety
The sticker has a good reflective effect and can reflect any light source. It is like a 'luminous circle', which gives people a different visual experience, and also improves safety at night to ensure your driving safety.
Material Used
The reflective warning sticker is made of good quality PVC material, which has good waterproof and wear resistance. It is dust-proof, has good weather resistance, and can be used for a long time
Specification