Say goodbye to dirty and scratched cars, the Pet Hammock Seat Cover is here to save the day!
Our product is the ultimate solution for transporting your dog in comfort and style while protecting your car's backseat from scratches, hair, and messes. The non-slip material and design of the hammock keep your dog secure during the ride, making it easy for you to take your furry friend with you on the road.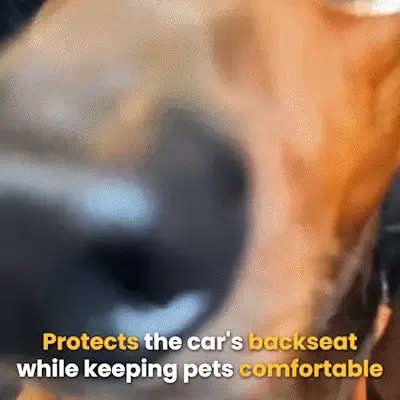 Reduce your pet's anxiety and make car rides a stress-free experience with our Pet Hammock Seat Cover.
Our product allows your dog to travel in the backseat of your car rather than a traditional car safe, reducing their anxiety and stress during car rides. The mesh visual window and circulation of air provided by the hammock allow your dog to see the outside and feel less confined, resulting in a calm and content pet. This means a stress-free ride for both you and your furry friend.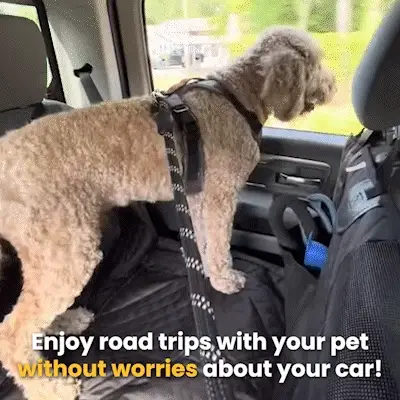 Enjoy a durable and waterproof solution for your car and pet.
Our product is made of 100% durable and waterproof oxford material, making it easy to clean and maintain. It can also be put in the washing machine for added convenience. This means less time cleaning and more time enjoying your dog's company.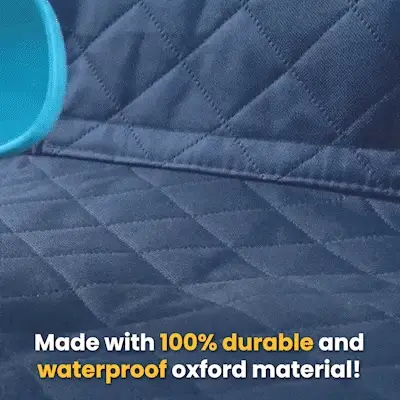 Easy installation and added features for added convenience.
Our product is incredibly easy to install with its zippers and snap buckles, and is built with non-slip material for added security. It also features side pockets for treats and toys, making your dog's car ride even more enjoyable. The added convenience of this product will make you wonder how you ever managed without it.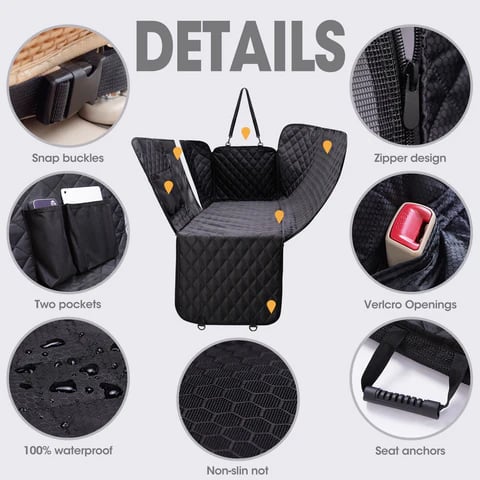 Allow someone to sit next to your dog and protect your backseat at the same time!
The zippers on the side of our Pet Hammock Seat Cover make it easy for someone to sit next to your dog while still providing protection and comfort for your furry friend. This means more room for your family, and less stress for you.

Keep your car and your pet clean with ease!
Our Pet Hammock Seat Cover is made of waterproof oxford material and is easy to clean, whether by washing machine, vacuuming or by spraying water. It's removable and unzips easily for cleaning, making it a breeze to maintain. Plus, its durability allows it to withstand multiple washes, ensuring a clean and fresh car for a long time. Say goodbye to pet messes and odors in your car with our easy-to-clean Pet Hammock Seat Cover.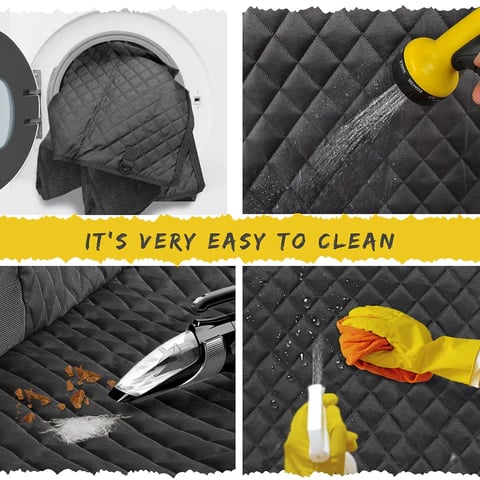 Fits any car size and can be used in multiple configurations.
Our Pet Hammock Seat Cover is designed to fit any car size, from conventional cars to trucks and SUVs. It can also be used in the hammock configuration, the box configuration, and the seat cover configuration, allowing for maximum flexibility. This means that no matter your car or your needs, our product will work for you.